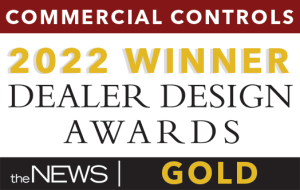 GEN V:
Manage your system from a single point with a simple & easy to use interface
GEN V, a low cost VVT or changeover bypass system. No complex software to learn, no PC or internet connection required. Control 20 zones per RTU, split-system, or fan coil (for VRF HVAC systems).
Your alternative to costly & complex control systems. The GENV makes managing your facility easy and affordable!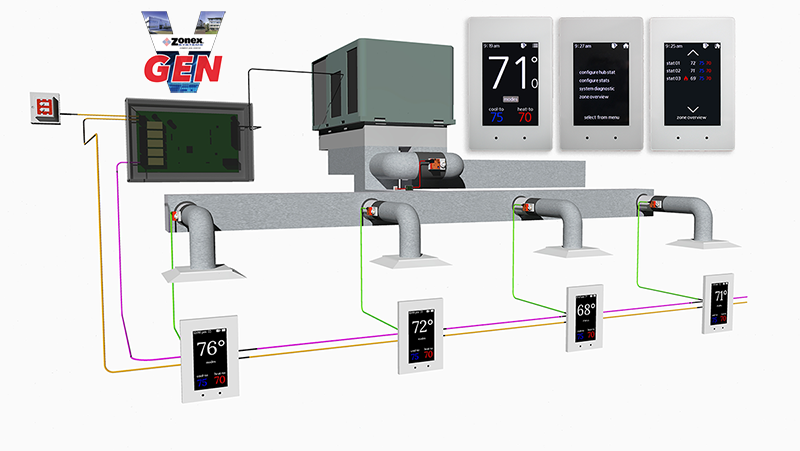 GEN V
Manage system operations from a single HUB, no PC or internet connection required
Changeover bypass or VVT type system
Control one zoned unit (VRF or constant velocity) up to 20 zone dampers per unit or control 20 standalone units
Color LCD touchscreen stats
Manage the entire system from a central HUB, 4 daily schedules, holiday/vacation, lock, set points, FDD & ADR compatibility, and much more
RETROZONE
Don't pull the dampers! Update old VVT or VariTrac zoning systems -
a simple, low-cost system upgrade
Update/retrofit older VVT type zoning systems using existing dampers and most of the existing wiring
RetroZone is available either as a communicating system (GEN X) or non-communicating (GEN V)
GEN X - VVT
VVT with remote internet access via mobile app from
ANYWHERE (Android, Apple, or web browser)
Remotely access 1 or multiple VVT, zoned systems or stand-alone equipment, generic loads (lights, pumps, fans and more) from ANYWHERE!
Control 20 zones per unit or network up to 400 zones or thermostats
Includes BACnetIP, ADR, & FDD
Priced to help you compete!
VRF-VAV
Streamline and simplify VRF installations
Providing the benefits of VAV with the efficiency of VRF technology
Reduce equipment and installation costs
Minimize long complex refrigerant lines, condensate lines, and electrical circuits
Innovative Smart Air Valves operate like an indoor unit without affecting VRF operation
GEN UC
Remotely control 1-400 stand alone RTU or split systems over the internet from your phone or mobile device
Network stand alone HVAC equipment
Control temperature set points, monitor RA/SA temperatures from each unit
Control generic loads, signage, parking lot lights or exhaust fans and scheduling remotely
SAMOD
Stand alone modulating damper with duct sensor designed for over conditioned areas.
A Real Problem Solver!
"Pincher" or floating zone system prevents over-heating and over-cooling of individual or stand alone zones
An auto changeover programmable thermostat that communicates to a fully modulating round or rectangular damper
Supplemental or auxiliary heat capability
If you need assistance please call
(800) 228-2966
Or to review and discuss your job with an application engineer, please call 24/7 or fax us at (714) 898-6802